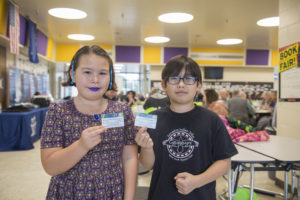 CIRI invites descendants of CIRI shareholders to register their information. This allows CIRI and its family of socially driven enterprises to communicate regarding potential opportunities and items of interest and assists CIRI and its socially driven enterprises in making eligibility determinations for certain programs and services. Submitted information is treated confidentially and used only for these purposes, unless otherwise approved by the applicant.
Forms
The CIRI Descendant Registry is for direct lineal descendants (e.g., the children, grandchildren, great grandchildren, etc.) of CIRI shareholders.
Descendants who are already CIRI shareholders do not need to enroll.
To register, descendants must submit a completed registration form and a copy of the state-issued birth certificate establishing the relationship to a CIRI shareholder. If the descendant's name differs from the name on the birth certificate, or if the shareholder's name on the descendant's birth certificate is different from the name CIRI has on file, copies of the legal document(s) substantiating the name change are also required (e.g., a marriage certificate, divorce decree, adoption decree or other legal document).
Identification cards are issued to confirmed descendants.
CIRI regularly communicates with descendants through eNewsletters and announcements regarding items of interest (e.g., educational, training and job opportunities; upcoming events; and new programs and services). To reduce paper waste and costs CIRI primarily communicates electronically, but may occasionally send mailings on important topics. To ensure timely receipt of the latest CIRI news and events, it is important for descendants to maintain up-to-date contact information. A Contact Information Update form is available for this purpose. Descendants who are 18 years of age or older and who have portal accounts may update their mailing addresses, phone numbers and email addresses via Qenek and opt in to receive text messages with the latest updates and news. Descendants who regularly access their Qenek accounts have their names included in quarterly prize drawings.
Click here for the Descendant Registration Form.
---
Descendant Identification Cards
Identification cards will be issued to descendants once proof of lineal descent is confirmed.
The card may be used to check in at CIRI events if the descendant arrives before the shareholder, and may also be presented to vendors and shareholder and descendant business owners that provide descendant discounts.
The cards indicate whether the bearer is a direct lineal descendant of an Alaska Native CIRI shareholder, or of a non-Native CIRI shareholder, and may also be helpful in assisting descendants to prove eligibility to receive services from various agencies and organizations.
The cards will not specify the Alaska Native blood quantum. If a Certificate Degree of Indian Blood is needed, descendants should continue to apply to the Bureau of Indian Affairs at 3601 C Street, Suite 1258, Anchorage, Alaska, 99503, telephone (907) 271-4477, toll-free 1-800-645-8465, email

[email protected]

or fax (907) 271-4085.
Descendants whose names have changed may receive a replacement card free of charge, provided the legal documentation substantiating the name change is provided to Shareholder Relations. Descendants who have lost or damaged their cards should contact Shareholder Relations to request a replacement.
---
Keeping Descendant Information Current
Click here to update descendant contact information online, or send an email with your full name and the changed information to 

[email protected]

. If you send an email, please include your full name, note that you are a descendant and include a working phone number so that we may contact you with any questions.
---
TCF Eligibility
Currently, eligibility to receive  scholarship and grant funding from The CIRI Foundation (TCF) is determined through an applicant's status as an original enrollee of CIRI, or as a direct lineal descendant of an original enrollee.
Even if a current lineal descendant does not apply for TCF scholarships or grants, future generations of descendants may wish to do so. But with each successive generation, it is becoming more challenging to document a descendant's relationship to an original enrollee.
The descendant registration process allows TCF to access and use submitted documents for eligibility determination purposes. Collecting the required information now makes the application process easier for both current and future generations.
While the descendant registration process may be helpful for collecting eligibility documents used to apply for TCF funding, descendants are not required to complete the descendant registration process to apply for TCF funding.
More information can be found at The CIRI Foundation website. Go to www.thecirifoundation.org to apply for educational funding.